Fire Sleeves Industrial Pryojacket

Industrial Pryojacket Fire Sleeves are Knitted thicker, denser inner glass fibre & coated with heavy industrial grade iron oxide red silicone rubber compounds to give higher insulation values increased strength & enhanced abrasion resistance. This Sleeves have excellent resistance properties.
Sheds Splash immediately
Industrial grade Pyrojacket Fire Sleeve with stand exposures to molten steel, molten aluminum and molten glass up to 1650°C(3000°F). The heavy coating of iron oxide red silicone rubber compound sheds molten metal splash immediately so very little heat transfer occurs.
Withstands intense radiant heat & Flame
Industrial grade Pyrojacket will withstand continuous exposure to 260°C (500° F), up to 1090°C (2000°F) for 15-20 minutes; and up to 1650°C (3000°F) for 15-30 seconds. When exposed to flame, the silicone rubber transforms into a crust, creating a protective SiO2 refractory layer.
Industrial grade Pyrojacket is constructed from high bulk glass fiber knitted sleeve. Excellent modulus of elasticity makes it an excellent choice for bundling hoses, tubes and cables in a variety of hostile environments.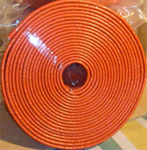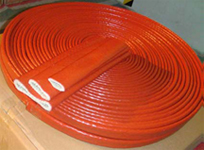 Protect your personnel and cut your energy loss
Industrial Pyrojacket's Fire Sleeves insulation properties provide personnel with protection against burns from hot hoses and flexible steamlines, while reducing heat energy losses.
High Voltage Protection
Industrial Pyrojacket Fire Sleeves have bulk glass fibre & thick red oxide silicon to give high voltage protection to cables splices up to 11 KVA& motor lead connection.
Properties Fire Sleeve

Continuous operating temp

260°C (500°F)

Max short term exposure

1650°C (3000°F)

Molten splash resistance

Outstanding

Flame resistance

Very good

Abrasion resistance

Very good

Flexibility

Outstanding

Water and oil resistance

Outstanding
Advantages
Extreme Heat Protection – Flame Resistance Self Extinguishing.

Protects Hydraulic/ Pneumatic Hoses & Lines, Cables & Wiring.

Reduces Failures, Unscheduled outages, maintains & energy costs.

Provides protection from hot process piping equipment.